The digital catalogue of companies, products and services supporting the international promotion of the Alentejo Silvestre resources chain is available online at https://alentejonaturalproducts.pt
It is an action of the project "Internationalisation of wild resources 2020" supported by the PROVERE programme. It is translated into 3 languages (Spanish, French and English).
Produced by NERBE/AEBAL – Business Association of Baixo Alentejo e Litoral, in partnership with ACIECALM – Associação Comercial, Industrial e Empresarial do Concelho de Almodôvar, ADCMoura – Associação para o Desenvolvimento do Concelho de Moura, ARPTA-Agência Regional de Promoção Turística do Alentejo, Turismo do Alentejo, ERT, the municipality of Almodôvar and the municipality of Mértola, it is aimed at companies established in the Alentejo region, which produce and/or commercialise products and services from silvester resources, i.e. honey and its derivatives, mushrooms, prickly pear, arbutus, aromatic and medicinal plants, hunting resources and inland water fishing resources, and which wish to internationalise their activity in the German, Spanish, French and Dutch markets
To join the catalogue, interested entrepreneurs simply fill in a short form on the platform.
In addition to the digital catalogue, the project partners are also developing :
– Market guides to support the internationalisation of the natural resources sector for target markets;
– International prospecting in target markets to identify market opportunities for the sector;
– Prospecting visits to the Alentejo region to discover the regional offer, through a programme of visits and b2b meetings with companies in the sector;
Participation in international trade fairs to promote the Alentejo region's silvery resources.
The partners hope that this project will contribute to promoting the competitiveness of the silvestre resources sector, as a sustainable territory-based initiative, improving the success of the internationalisation of its SMEs, through the development of innovative mechanisms for prospecting, knowledge and access to international markets and the stimulation of innovative collective initiatives.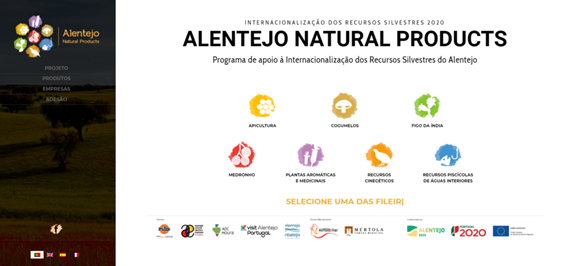 This post is also available in: FrenchGermanPortuguese (Portugal)