The kiezküchen provide refugees with fresh, tasty food every day.
The number of refugees to be cared for in the capital has risen sharply. The challenges associated with this are manifold. At least in the area of catering, the kiezküchen can help with their core competence and have taken over the provision of three meals a day for refugees in three initial accommodation centres.
Breakfast, lunch and dinner should not only provide food for the refugees, but also…
but also be associated with anticipation of tasty food three times a day. In November 2015, the feeding of 160 people began in an initial shelter in Gürtelstrasse. In March 2016, two more shelters were added in Woelckpromenade with 150 and in Wichertstrasse with 100 refugees.
The Rathenow kitchen, which is otherwise mainly used for feeding the homeless, and the orania restaurant process food specially adapted for Muslims in their kitchens.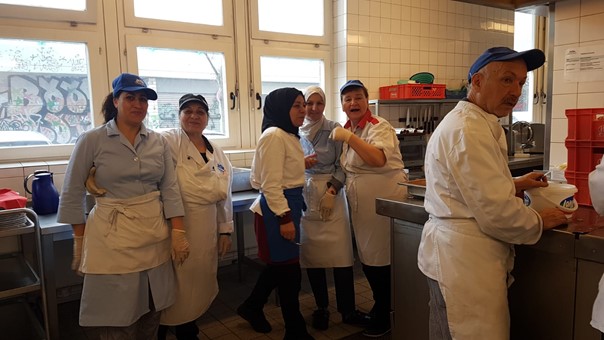 …the homeless care of the kiezküchen and what it means for hundreds of people:
200 healthy snacks for schools in Berlin Mitte,
120 meals for the homeless,
500 soups to warming rooms in field offices
and that every day for children and the homeless, for whom our gastronomy is not simply catering.
In the Rathenow kitchen, people in qualification and employment measures, refugees and people with learning disabilities provide homeless people with hot food from food donations from Berliner Tafel e.V., Gezer Fleischmanufaktur and Fresco GmbH.
The Rathenower Straße 16 –
which (re)opens up professional opportunities for some and means support, advice and a constant place of encounter for others, beyond a catering service. Every day.
The participants from qualification projects of the kiezküchen produce under the guidance of
by and in collaboration with highly qualified and experienced trainers and chefs.
Social and special needs educators at the location are contact persons for the needs of the participants and guests of the Rathenower küche.
The feedback from the first accommodations encourages us to spread a little joy among the people through delicious, fresh food.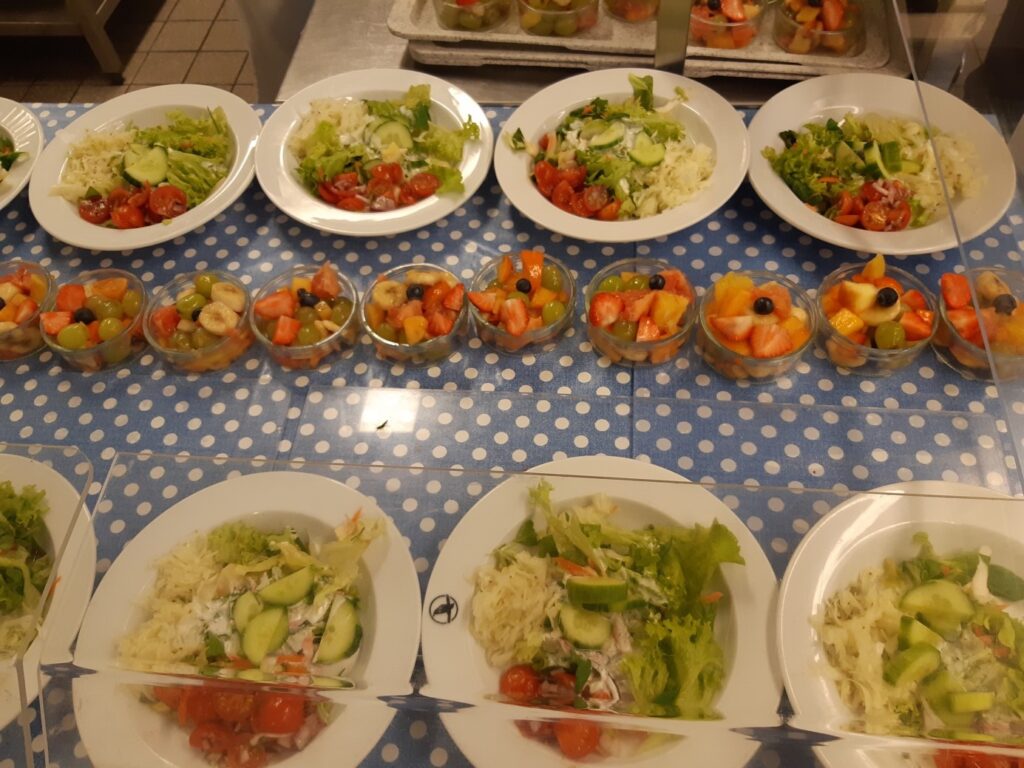 Gastronomic management
kiezküchen Head OfficeHans-Joachim Parschke
Nordendstraße
5013156 Berlintel
. +49-30-48522355fax
. +49-30-48522350
kiezkuechen@bildungsmarkt.de
This post is also available in: FrenchGermanPortuguese (Portugal)