Marktschwärmer opens the first Schwärmerei in Germany in Cologne-Ehrenfeld in June 2014. In this way, the digital direct marketing platform wants to give everyone access to regional food in order to participate in building a fair and sustainable food system. In December 2020, Marktschwärmer reaches an important milestone: the 100th Schwärmerei opens its doors in Rosenheim, Bavaria. Given the circumstances, the social enterprise celebrates this success on a small scale, but not without drawing attention to the growing importance of a regional and sustainable basic supply.
The aim of Marktschwärmer is to promote fair market access for farmers and food artisans and to enable them to have a direct, transparent and trusting exchange with their customers. This is the only way to create a food system that is good for us humans and the planet.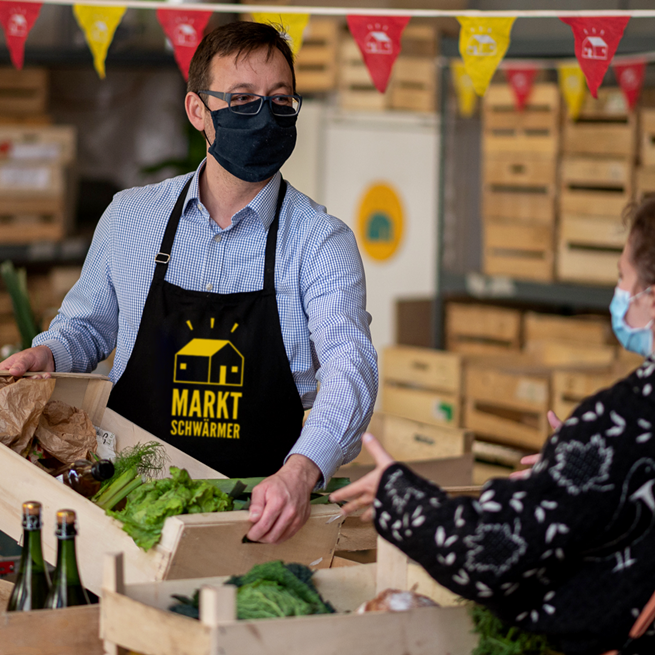 Fresh products, fair prices and direct contact with regional producers Marktschwärmer is the place to go for consumers with a passion for good and fairly produced food. The decentralised network creates a direct link between producers and consumers in a region: customers can conveniently order from the online shop of their local Schwärmerei at www.marktschwaermer.de. One day a week, they pick up their fresh purchases at a central location in their neighbourhood and meet the people who produce the products they bought. The food at Marktschwärmer comes from local farmers, food artisans and small manufacturers. On average, the transport distance between the place of production and the Schwärmerei is no more than 30 km. This creates a very short and robust supply chain for the regional basic supply. And by ordering in advance, food waste can be avoided, because only what is sold is delivered.
Marktschwärmer's success story is a cause for celebration
With already 114 Schwärmereien open in January 2021 and another 94 Schwärmereien under construction, Marktschwärmer can look back on many successes. In the 6 years of its existence, the organisation brought together more than 1,800 German producers, the Schwärmerei hosts organised more than 11,600 food distributions, and convinced over
140,000 consumers to use the platform. Since the start of the pandemic, consumer interest has increased sharply and orders have almost doubled year-on-year in 2019. Growers have seen a growth in total sales of +120%. Today, more than 6,000 German households purchase a large part of their weekly groceries through the gushers.
Jacques Wecke, Project Manager Germany of Marktschwärmer explains: "The year 2020, like many, has presented us with great challenges. However, this exceptional situation has made our
community of independent producers, inspiring hosts and conscious consumers. We have come noticeably closer to our goal, because despite distance regulations and reduced personal contact, our network has grown strongly. Now we want to build on this success and focus more on the aspect of our community, so that our network continues to be so popular after the pandemic.
Market Enthusiasts Germany
Equanum GmbH
Laura Kozlowski
Boxhagener Str. 82a
Phone: 0176 57 94 23 83
10245 BerlinE-mail: kommunikation@marktschwaermer.de Website: marktschwaermer.de
Blog: Werave aboutgoodfood                              
This post is also available in: FrenchGermanPortuguese (Portugal)