Shamzuri (Sham) Hanifa, a native of Malaysia, moved to Ireland over 18 years ago seeking new opportunities and experiences.  Steeped in a tradition and love of the freshest foods and inspired by his Grandmother's flavoursome cooking, Sham started his culinary career at 12!  He has worked his way up though every stage of the catering world, from kitchen porter to head chef.   At the age of 20, his whirlwind Irish adventure began in leading restaurants in the West of Ireland. Little did he know then, that he would spent the next 18 years here, meet and marry an Irish girl, start a family, before settling in Jamestown in 2008 to open his own restaurant, the acclaimed The Cottage Restaurant. While Sham is very proud of his Malaysian roots, he feels a very strong connection to Ireland.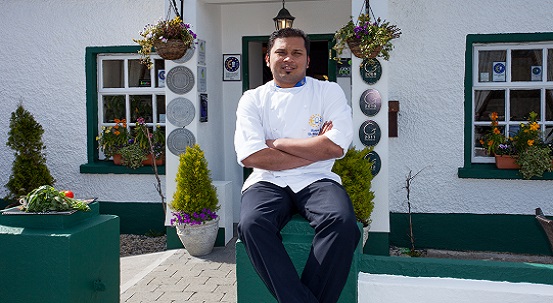 World Cuisine – Irish Food with an Asian Fusion Twist
In The Cottage Restaurant kitchen, Sham leads a passionate culinary team committed to producing contemporary Irish cuisine with an Asian fusion twist.  Using the finest local ingredients and supporting local producers, Sham has won a multitude of prestigious awards and accolades. Some of his tallies include the Good Eating Guide, Best Restaurant in Connaught, Best Chef in Connaught, Best Restaurant in Leitrim.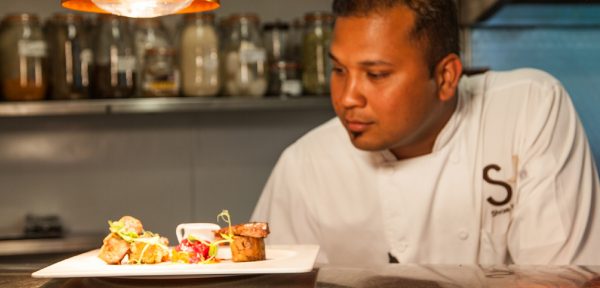 Sham's Food is inspired by his Culinary Heritage
Sham's curiosity and love of food was sparked at an early age. Growing up in Malaysia, his family nurtured a plentiful garden of fruit (goya and mangos) and vegetables (chilli, beans and yam potatoes). Ask Sham who has had inspired him the most and he will say "my Grandmother".
Sham's Father plays a key role in his food heritage too – so much so that he named his latest restaurant The Buffalo Boy after him – you can read that story here: Buffalo Boy — History of Award Winning Carrick-on-Shannon Steakhouse
Focus on Local – Sham values fresh local produce
From a very young age, Sham learned about the values of fresh food and can recall with fond memories going out to the garden and picking fresh ingredients with his Grandmother, then watching as she turned them into the most bountiful and tasty meals. Fast forward to today and a fine testament to what he learned from his Grandmother, Sham now grows his own ingredients for the Cottage Restaurant in a polytunnel filled with the most wondrous greens, veggies, fruits and edible flowers ripe for the picking! He also takes great care in choosing meats and ingredients from his local suppliers.
Some of Shams local suppliers – Cooperhill Farm, Sligo (Venison), Ciaran Reynolds, Butcher Carrick on Shannon (Lamb), Butcher Barry Brogan, Swalinbar. (Beef). Tina, 12 Quaill Farm, Fenagh. (Quail & Quaill Eggs) Ken Moffat- Thornhill Farm, Cavan. (Duck) Eimhear Flynn Gorvagh, Leitrim(Goat).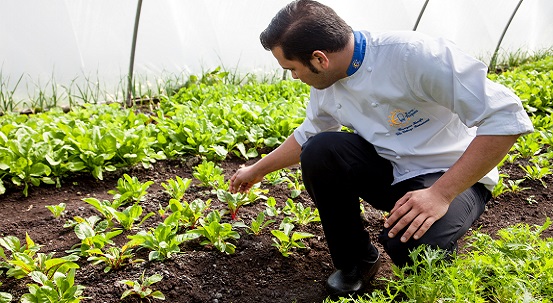 We were delighted to interview Sham Hanifa for our Kus Kus Adventures of Food Entrepreneurs Irish Multiplier Event.
This post is also available in: FrenchGermanPortuguese (Portugal)