In our project, we offer you a job-related German course, the teaching of important basic education topics (maths, computer skills, excursions, sports) and practical training in our restaurants or in hotels.
The NiG project is carried out in cooperation with the Brillat-Savarin School, a vocational training centre for the hospitality industry. Vocational and practical German lessons take place two days a week at the OSZ Gastgewerbe and two days a week you take part in practical training in our restaurants at kiezküchen gmbh. Basic training also takes place at kiezküchen gmbh one day a week.
You can stay in the project for 3-12 months. We prepare you for the apprenticeship and arrange internships and apprenticeships in Berlin hotels and restaurants.
Participation is free of charge for you.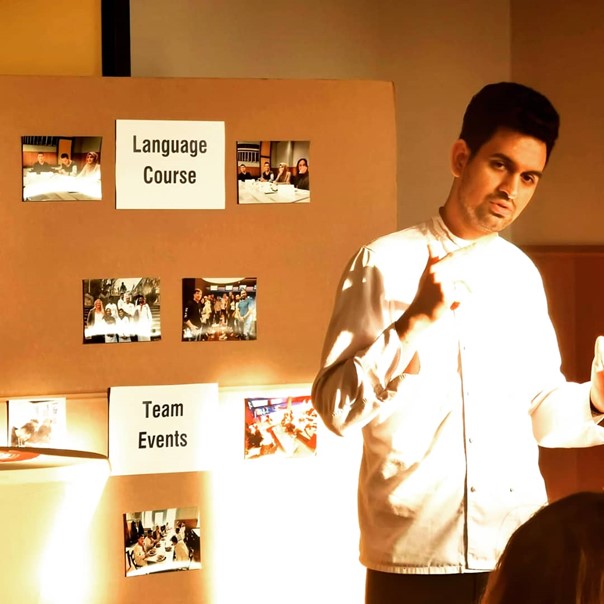 With an alert gaze and a friendly smile, Mohammad sits at a table in the stadionterrassen in the gloomy Berlin weather. "I am satisfied when I can help other people. If I have helped one person, I have already won." Big, strong words – if you know Mohammad's story, you understand that he is more than just a normal practical trainer in the NIG – New in Hospitality project. He is someone who really understands the fears, problems and needs of refugees coming to Germany.
Mohammad's life story is rocky. Born to Afghan parents in Iran, he felt the harsh regime as a teenager. As a 16-year-old, he worked in security in Iran. The ban on continuing to attend school forced Mohammad, who wanted more for his life, to flee and thus take a hard step: away from Iran. Away from his parents.
Friends and acquaintances had already fled to Canada in 2015, and so the faraway country also became his destination. In the same year, he fled to Greece as a boat refugee. Several more countries and detentions, data collection, fingerprinting, blackmail and betrayal followed. Mohammad passed through Macedonia, Serbia, Hungary, Austria and finally Germany on foot – always with his destination in mind: Canada.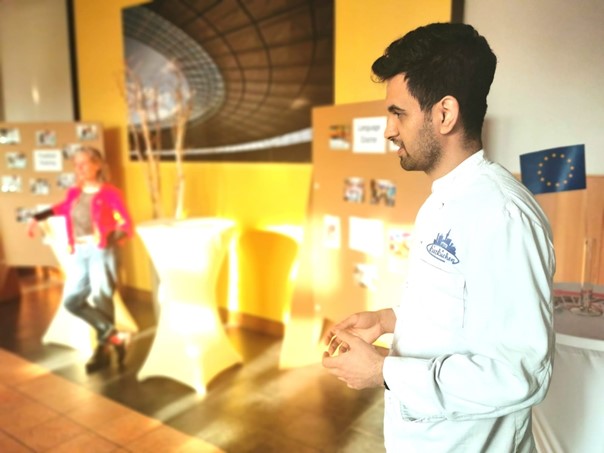 But it turned out differently: Mohammad knows people everywhere, many of whom he met on his flight in Greece.
An acquaintance advised him to register as a refugee in Berlin. Mohammad followed this advice. Another friend kept stressing that he needed to learn German. German, the language Mohammad describes
as "without real letters" and "much too hard". Nevertheless, he struggles. He learns German in his refugee accommodation in Charlottenburg. Even today, he speaks proudly about his German teacher, who taught him almost perfect German grammar.
In the refugee accommodation, he also comes into contact with the Hospitality project. This project helps refugees gain a foothold in the German labour market and places them in apprenticeships and jobs in Berlin hotels and restaurants. It also offers German courses and internships.
Mohammad also met Alexander Fourestié from kiezküchen during this combination of German course and internship. After several internships and entry-level qualifications in the kitchens of Berlin hotels, Mohammad will complete his training as a chef at the Marriott Hotel in autumn 2019. The idea to work as a practical trainer for the NIG project came from Alexander Fourestié . The project NiG – Neu im Gastgewerbe (New in the Hospitality Industry).
NiG – Neu im Gastgewerbe (New in the Hospitality Industry) supports young refugees with little knowledge of German who would like to complete an apprenticeship in the hospitality industry.
This project is more than a job for Mohammad. It is an affair of the heart. Mohammad says that although there are many projects and offers for refugees, they are "nameless" and "not practical enough". "What is the point of learning grammar in theory and then standing in silence, cutting peppers, in the kitchen?"
NIG is different: here the participants get "what they need". Support, encouragement and a targeted career perspective.
Mohammad is happy as a practical trainer and has also come to terms with Germany. He still feels homeless, but the happiness of having his own little family in Germany is evident in every word he says.
If someone had told him ten years ago that he would one day train to become a chef, he would not have believed it. Actually, he had always dreamed of becoming a pilot.
What is not, can still be, if someone shows so much ambition.
Consultant Tibor Ungerkiezküchen
gastronomy & education centre
stadionterrassenJesse-Owens-Allee
214053 Berlin (Charlottenburg)
mobil. +49-176-10201337
tunger@bildungsmarkt.org
This post is also available in: FrenchGermanPortuguese (Portugal)